The Shared cM Project now shows your DNA match relationship possibilities in an easy-to-understand chart (a histogram). Here's how it can help you build your genetic family tree.
The Shared cM Project (ScP) is an invaluable tool for genetic genealogists. It helps you see how the amount of your shared DNA with any given match translates into possible genealogical relationships. For example, perhaps you share 100 cM with your match. The ScP tells you that it is 38% likely that you have one of four genealogical relationships, and 30% likely that you have one of four other relationships.
It can be a lot to process and take in. For me, pictures always help. Enter the Shared cM Project Histogram.
The Shared cM Project Histogram
In the most recent update to the Shared cM Project (SCP), Jonny Perl and Blaine Bettinger integrated histograms into the online tool. A histogram just is a fancy word for a chart that can convey a bunch of information all at once. If you can read a chart (and you can), you can read a histogram.
Before I show you the ScP histogram, you need a quick reminder from high school math (sorry-not-sorry). Remember the "bell curve?" It's a shape that many kinds of results take when you diagram them out. If the curve below were reporting average test scores, for example, about 70% of them would fall within a "most-reported" range, with another 14% or so falling within a second-most-reported range on either side of that 70%, and then there would be a few scattering "outliers."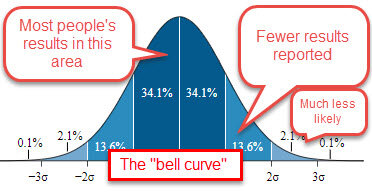 Ok, with this "bell curve" shape in mind, let's move on to an example of a Shared cM Project Histogram. Before you start reading the text in the image below, take a quick look at the blue bars reporting the results. Draw an imaginary line connecting the tops of them. See the bell curve? It's showing you very quickly what the most-frequently reported results are.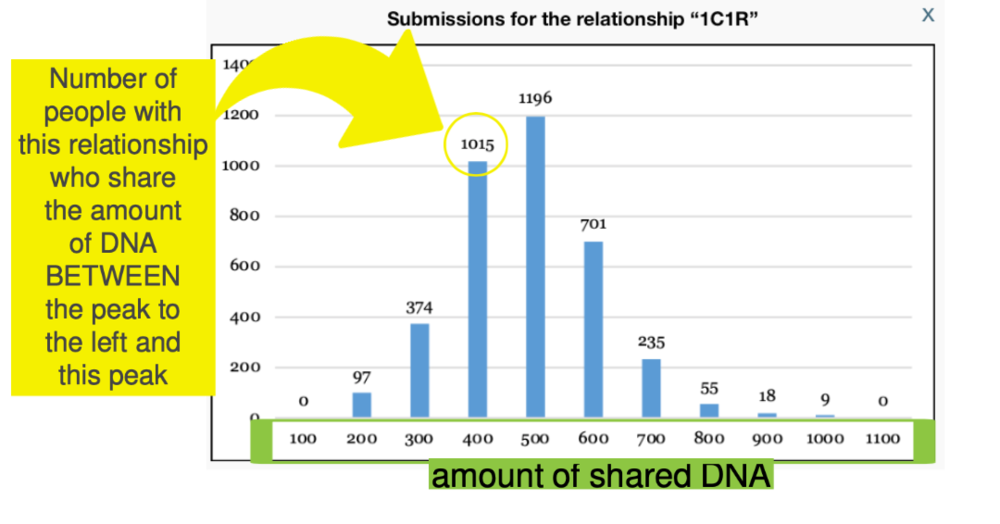 Now, for interpreting this chart. It shows us all the data collected by the ScP for DNA matches whose genealogy says they are first cousins once removed (1C1R). The numbers running along the bottom of the chart reveal ranges for how much DNA was shared by these 1C1R, starting at zero cMs and going all the way up to 1100 cMs. The numbers going up the left side help us see how many people are falling into each category. The exact number is written at the top of each of the blue bars (peaks). For example, 1015 individuals report 1C1R relationships that share between 301-400 cM. Make sense?
So how do we use this chart? Here's a good scenario: You are thinking you might be a descendant of Donavan Waters and his wife Andralene Frisco. If this is true, three of that couple's documented descendants who have been tested (and appear as your DNA matches) would be your 1C1R.
When you look at the chart, you see that the amount of DNA you share with each of these cousins falls consistently on the left side of the chart, rather than toward the comfortable middle. In other words, you're consistently sharing less-than-typically reported amounts of DNA with all 3 of them for a 1C1R relationship. While you are technically sharing enough DNA to be connected at this couple, you may want to consider that you share a more distant relationships with these matches.
Isn't this a great DNA relationship tool? Explore all the best strategies for figuring out how you're related to your DNA matches in Your DNA Guide—the Book. Whether you're searching for birth relatives or building your family tree, this book will help you transform your DNA connections into ANSWERS.
Source: Your DNA Guide Blog – Your DNA Guide https://www.yourdnaguide.com/ydgblog/
Posted On: August 20, 2020 at 10:14AM