The benefits (and challenges) of cleaning up your research area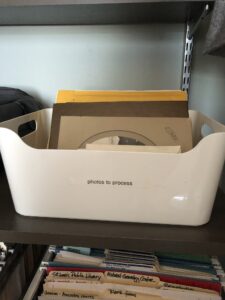 Over on my organizing blog, I'm doing a Tiny Projects challenge, in which each day this week I am accomplishing one tiny organizing project in my home and blogging about it. Today, I tackled the reach-in closet in my office. (You can read about it and see the before and after pictures here.) That closet holds mostly genealogy stuff.
Since I don't print or download genealogy documents, I don't have a lot of paper genealogy clutter. But when I spent a half hour creating order in that closet I realized that I have some genealogy-related projects lurking in there that weren't even on my radar.
I discovered that I had a bunch of photos of ancestors–I didn't look at them carefully but they look to be 50-100 years old or more. I'm sure they were passed along to me by a relative and my intention is to scan and file them in my genealogy filing system. They were scattered on the surface of the main shelf in the closet. That closet is equipped with an Elfa system (I blogged about that back in the day when I installed it). There is one larger shelf that could serve as a desk. So while I was tidying and organizing, I gathered up the photos and put them in a container that I labeled "photos to process" and placed it on the main shelf so it can't hide from me.
I also have a container full of genealogy journals to read. I added to it today. It's really just the two publications that the National Genealogical Society sends to its members, as well as the Missouri genealogical society's journal. Back in January 2019, I vowed to skim them, but in fact I haven't.
I feel I need to fish or cut bait here. Either I carve out some time to read them (perhaps during an October 30 x 30 challenge?) or decide I'm not going to read them and then find them a home with someone else.
I rather like the idea of devoting 30 minutes a day for a month (or less if it goes more quickly) to see what I can glean from these publications. But it can't be this month!
I'm really glad I cleaned out this closet, but I'm a little sad that two big projects emerged (the photos and the journals). I can't believe I'm complaining about it, though. These are treasures I'm fortunate to possess, not burdens to be dealt with!
If it's been awhile since you cleaned up your genealogy space, you may have some pleasant surprises hiding in there!
Source: Organize Your Family History https://organizeyourfamilyhistory.com
Posted On: August 19, 2020 at 04:16PM