If you've purchased an Orderly Roots guide…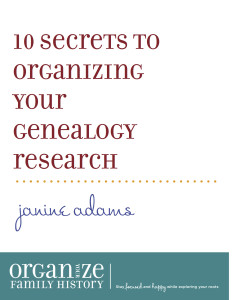 …I have a favor to ask.
I'm just about to publish a new Orderly Roots guide (called How I Do It: A Professional Organizer's Genealogy Workflow; it will detail how I organize my genealogy research). I'm in the process of completing a new description page for the guides and I'd love to include a few testimonials.
No pressure, of course, but if you'd like to help me out, just answer any of these questions, by either commenting on this post or sending an email to janine@organizeyourfamilyhistory.com
Here are my questions:
Which guide or guides did you purchase?
Did you find the guide helpful?
What kind of results did you see or feel because you read the guide?
Did the guide help you make any changes in how you organize or conduct your research?
Thanks in advance to anyone who wants to take the time to answer any of those of questions. I'll put those who respond on a temporary email list so you'll be the first to hear when How I Do It is published.
Source: Organize Your Family History https://organizeyourfamilyhistory.com
Posted On: March 22, 2021 at 09:38AM