Sharing your AncestryDNA test results—ethnicity or match list or BOTH—can pique your relatives' curiosity or help you and your DNA match figure out how you're related. Here's how to do it.
If you're one of the millions who has taken an AncestryDNA test to learn more about your family history, you may be wanting to share your ethnicity results with loved ones. Or maybe you and your DNA match are trying to figure out how you're related to some shared mystery matches. Or perhaps you'd like to get some help from a friend who understands this whole "DNA thing."
If you trust the person with your DNA test results, the easiest thing to do is give them access. Here are your options for how to share your AncestryDNA ethnicity results or your match list (or both!).
How to share your AncestryDNA test results
Share AncestryDNA ethnicity estimate only
The first thing I wanted to do with my AncestryDNA results was broadcast my ethnicity estimates to my loved ones (and, I admit, all my Facebook friends). It's easy, whether you want to email a link to your cousins or share on social media.
Log in to your Ancestry account. Under the DNA tab, go to DNA Story. Click the Share tab, shown below.
When you click Share, you'll see the box shown below, left. You can copy a link to share with selected people (anyone who has the link can view the results). OR you can select a social media sharing option. Whichever you choose, your audience will see a summary of your ethnicity percentages and genetic communities, like what's shown below on the right.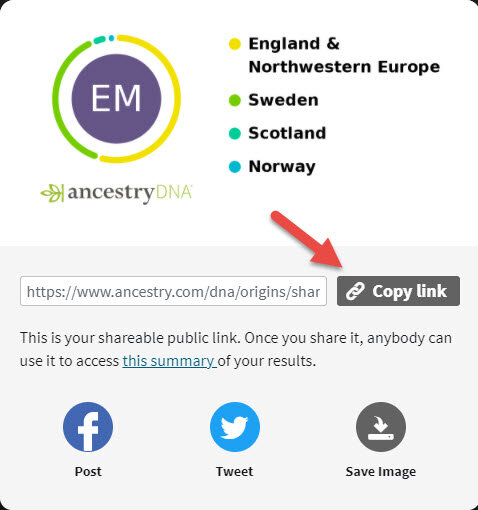 Not entirely sure what you're sharing? Explore our popular list of DNA ethnicity FAQs, which includes a free downloadable guide to your DNA ethnicity.
Share your AncestryDNA match list, too
The above method ONLY shares the ethnicity part of your DNA test result. Your results also include a list of DNA matches: your genetic relatives who have also tested with Ancestry. Your DNA match list may be able to help you find unknown biological relatives and even build your family tree.
Your DNA match list is more personal, and can't be broadly shared with a quick link or social post. You have to invite people individually. Consider doing this if you and another DNA match are trying to figure out how you're related. (Seeing whether your match is more closely or distantly related to your the matches you have in common can be revealing!) You can also invite someone if they're going to help you make sense of it.
To invite someone to view your full DNA test results (your ethnicity + match list), log in and go to your main DNA page. Under Settings, scroll down to Sharing Preferences. Click the option to add a person.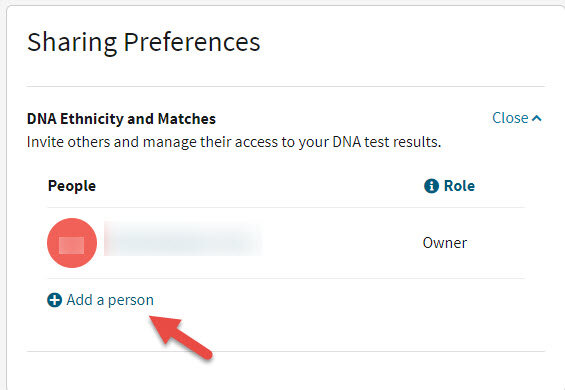 Next, you'll get the option to enter that person's email address or their Ancestry username. You'll also need to choose what level of access you're offering this person:
What does it mean to view, collaborate or manage your AncestryDNA test results?
Viewers can see your full test results (ethnicity + match list, including the same kinds of information you see about your matches and their trees), but can't make any changes.

Collaborators have your full test results and can add notes, edit details, and link your test results to an Ancestry tree. (You can continue to do all these things, too.)

A manager has a lot more power, so be judicious with this invitation. A manager can delete your results permanently, download your raw DNA, invite other people to access your results, and send/receive messages on your behalf in the messaging area. You can only invite one person at a time to manage your test—and you can change this anytime.
Learn to "Do the DNA"
Sharing your AncestryDNA results is part of the fun—and so is exploring those test results (alone or with a buddy)! We can teach you how to understand your DNA test results and use them to identify unknown relatives and ancestors. Sign up for our free monthly email newsletter to receive helpful and inspiring tips.
Source: Your DNA Guide Blog – Your DNA Guide https://www.yourdnaguide.com/ydgblog/
Posted On: April 8, 2021 at 02:57AM