I am delighted to present a new interview in my How I Do It Series. I bet a number of you are familiar with Amie Bowser Tennant, The Genealogy Reporter, who brings us genealogy news, education and inspiration. Amie is a research genealogist and national speaker and, in addition to keeping her own blog, she is a blogger for FamilySearch. I've enjoyed hearing her speak at conferences and am so happy when she agreed to do this interview. Enjoy!
How They Do It: Amie Bowser Tennant
How long have you been doing genealogy?
I have been doing genealogy for 22 years. It started out as a passion to scrapbook, but when I realized how many pictures my parents had of people they didn't know, I started investigating the family. That is how I got hooked!
What's your favorite thing about being a genealogist?
Wow…my favorite thing about genealogy? There are so many! I guess when I find a document that no one else had been able to find.
What's your biggest challenge when it comes to organizing your genealogy?
My biggest challenge to organizing my genealogy is getting ahead of myself. In other words, working on too many projects at once and not organizing as I go. I have everything I need print out documents, label them with a citation, file them in a folder or binder, and save them on the computer and on the cloud, and I still get excited and forget to print something or cite something from time to time!
What is your favorite technology tool for genealogy?
My favorite tech tool for genealogy is my smartphone with a camera! I don't have to make Xerox copies anymore and it has made a world of difference to the quality of the images I can get while visiting a research center on site.
If you were starting out new as a genealogist what would you do differently?
If I were starting out as a new genealogist, I wouldn't necessarily do anything different than what I did. The best thing I did was to take the National Genealogical Society American genealogy at-home course. It set a great foundation.
Do you keep a research log? If so, what format?
Yes, I keep a research log in Microsoft Excel usually. Across the top, I have the research question in bold. Then, each column gets a heading: Item Viewed, Date Viewed, What was looked for, What was found, URL link, Source Citation. I save this on Google Drive so I have it accessible anywhere I am doing research.
How do you keep track of clues or ideas for further research?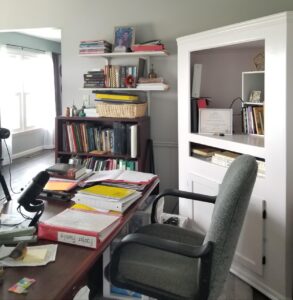 Lots of highlighters on document copies and my notebooks and I use colored sticky tabs to mark things in books or notebooks that I need to come back to.
How do you go about sharing your personal research with cousins or other interested parties?
I rarely share my personal research with other genealogy minded people. Not because I don't want to, but because my family members aren't interested in getting a traditional report. For this reason, I have done lots of unique things. I made a giant poster with all the descendants of my grandparents; I created a scrapbook of fun stories of just the grandmothers in the family; and I wrote a narrative about one side of our family after having done several interviews of family members. On occasion, I do a special something for the kids that has to do with their ancestor…like an ancestor birthday party or a potted plant of a flower/vegetable one of their ancestors used to grow in their garden.
What's the most important thing you do to prepare for a research trip?
The most important thing I do before a research trip is make sure my car is in good running condition. I once got a flat tire on a research trip and that was not fun! I also make sure I have a way to charge all my devices (phone, laptop, gps, etc.)
What's your biggest piece of advice to genealogists in terms of organizing their research?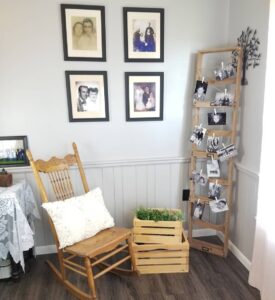 My biggest piece of advice for genealogists is to remember to not only cite their record sources, but to remember to source their pictures. I always add metadata or text on the front of a digitized photo with a source citation of where it came from.
Do you have a dedicated space in your home for doing genealogy research? What's it like?
I have a genealogy office that I feel very fortunate to have the room for! I have a nice big desk, shelving, and it is entirely decorated with pictures of family ancestors and my collection of oil cans. It has a big window that I can see out while sitting at the desk so I can enjoy looking over the fields as I work.
Raise your hand if you can relate to getting ahead of yourself and not organizing as you go! It's nice to know that this also happens to the pros we admire! I love Amie's ideas for sharing genealogy research. And I think I will now always give my car a check up before leaving for a research trip. Thank you so much, Amie, for sharing how you do it and for sharing the photos of your delightful genealogy space!
Source: Organize Your Family History https://organizeyourfamilyhistory.com
Posted On: April 13, 2021 at 10:11AM