Have you tried Collectionaire?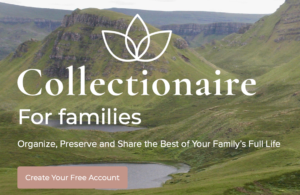 I had a question from a reader recently about Collectionaire, an online tool for sharing family history information and keepsake media. I have to admit I hadn't heard of it but I checked it out and was intrigued.
It appears to act as a hub where each person has a collection linked to a family tree. A click on a person in your tree brings up their collection and all the information and media you  have for them. You can easily share the collection with family members by providing a link (and you have control over which privileges to offer them).
Here's the video from their website:
You don't store information on Collectionaire. Rather, the keepsake media is stored in whatever cloud-based app(s) you choose, and they're brought together in Collectionaire.
There's a free tier, as well as two other plans at $2.99 a month and $4.99 a month.
I'm traveling now, so I haven't had the chance to explore it, but I thought I'd turn to the experts here. If you've tried Collectionaire, I'd love to hear about your experience, good or bad. It seems to have such potential!
Source: Organize Your Family History https://organizeyourfamilyhistory.com
Posted On: May 21, 2021 at 11:05AM