End-of-the-year sale on Orderly Roots guides!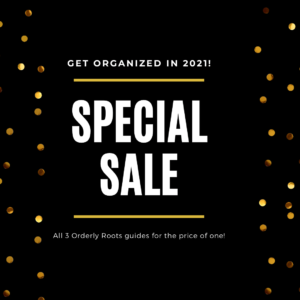 Need a little extra help and motivation getting organized in the new year? Then I have a special sale for you.  I currently offer three Orderly Roots guides, downloadable pdfs that I've written on topics surrounding organizing your genealogy research. I'm in the process of writing more and hope to publish a new one very soon.
In the meantime, in the spirit of getting organized for the new year, I'm offering a very special sale on the existing guides. Today through Sunday, you can buy all three Orderly Roots guides for the price of one! Put all three in your cart and use the promo code NEWYEAR at checkout and you'll be charged only $9.00. (The sale doesn't include the Paperless Genealogy Guide.)
Don't wait! The coupon code expires at 12:01 am central time on January 4.
Source: Organize Your Family History https://organizeyourfamilyhistory.com
Posted On: December 30, 2020 at 12:18PM