30 x 30 mid-month check in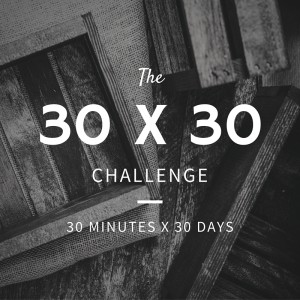 April is whizzing by and we're more than halfway through our 30 x 30 challenge. How is it going?
I'm happy to report that I've managed to research every day, though some days have not been a full 30 minutes. I've been laser focused on reducing backlog of downloaded documents to be processed. So far this month I've downloaded only one new file, which I processed the same session. I've managed to reduce my backlog by more than half. I started with 112 documents and I have 49 documents left.
I've been very pleased that I haven't missed a day, though I wish I had more time to spend on the backlog-busting because I'm finding it very fulfilling. One reason I'm short on research time is that I've been spending a lot of time getting my new How I Do It Orderly Roots Guide ready to be published on May 2. According to my spreadsheet, I have averaged 25 minutes, 8 seconds a day. So I'm hopeful I'll end the month averaging 30 minutes a day.
How about you? Has the challenge helped you make progress toward your goals? Have you been able to research each day? I'd love to hear how it's going!
Source: Organize Your Family History https://organizeyourfamilyhistory.com
Posted On: April 16, 2021 at 09:28AM